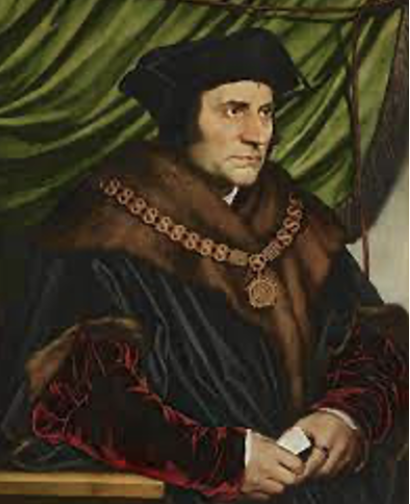 St Thomas More died very much alone. Neither his spouse, Alice Middleton, nor his four children, nor his two adopted children, nor their spouses, nor his friends, nor the bishops of England (with the exception of Cardinal John Fisher) understood More's trifling quibble about acknowledging Henry VIII as head of the Church in England "so far as the law of God allows". Anyone with a knowledge of Scripture, of the Fathers of the Church, and of the Magisterium would understand that Henry VIII's claim to be head of the Church in England was at odds with both Scripture and the Church's self-understanding over one and a half millennia – albeit that similar claims are made by tyrants in every age.
Henry VIII
Henry VIII, King of England from 1509 to 1547, was a tyrant who had no regard for the law, knowing no law but his own desires. Henry imprisoned and murdered those he regarded as his enemies. He murdered two of his six wives, Anne Boleyn and Catherine Howard. Henry spent lavishly on pointless wars. Henry plundered the monasteries to fund his useless extravagance. He failed to replace the educational and social welfare functions of the monasteries. Henry's reforms of the English Church created political and religious turmoil which involved bloody persecution of both Puritans and Catholics, and culminated in civil war in the 17th century. Henry was very much in the style of Macchiavelli's The Prince.
More's Quibble
The Carthusians with whom More had considered a vocation to the religious life went to their deaths on the issue as to whether Henry was head of the Church in England. Similarly, the Observant Franciscans who had a monastery in London, and with whom More was in close contact.
But More's quibble seemed rather like his long history of spending hours in prayer and reading, wearing a hair-shirt, singing in the village choir, even when he was Lord Chancellor – an eccentricity.
Forgiveness
Yet More was intensely involved in the lives of his children and friends, warm, full of concern for his family. More was forgiving of his enemies. More had nothing bad to say about his friend Henry. More died the King's good servant but God's first.
More is found at his most profound best in volume 14 of the Yale Collected Works of St Thomas More which is devoted to More's Tower writings. The Treatise on the Passion, The Sadness of Christ, A Treatise to Receive the Blessed Body of Our Lord, Dialogue of Comfort against Tribulation, disclose the mind of More as he approached being hung, drawn and quartered – at the last moment commuted by his merciful friend Henry VIII to beheading.
The Church venerates St Thomas More as the patron saint of lawyers, politicians and statesmen, the patron saint of those in difficult marriages, the patron saint of large families.
Lawyer
In More's day the distinction between the judiciary, the legislature, and the executive was no commonplace – and Sir Thomas More occupied various roles-barrister, parliamentarian, Speaker of the House of Commons, Under-Sheriff of London, diplomat, Privy Councillor, Chancellor of the Duchy of Lancaster, Lord Chancellor. As a barrister More urged his clients to settle their disputes. As a judge More made speedy decisions. More took his judicial independence seriously, remarking that if two litigants were the devil on one hand, and his father on the other, if the devil had the better case at law, the devil would succeed. At a time when judges commonly accepted "gifts" from litigants, More refused them. Despite his professional success More was unambitious, being dragged unwillingly into the service of Henry VIII, who thought he could use More's advice to his advantage.
Mind
More privately disclosed his mind to Henry VIII before accepting the Lord Chancellorship. Henry VIII assured More that he would respect his conscience. There can be little doubt that More foresaw the strife to which his conscience would lead – and was most circumspect in disclosing his mind publicly until his conviction and sentence – unlike Bishop John Fisher who had particular obligations as a bishop, and who was forthright on the issue which would take both to martyrdom for the faith.
Yet More was not without serious faults, most significant, his willingness to use the power of the state against heretics.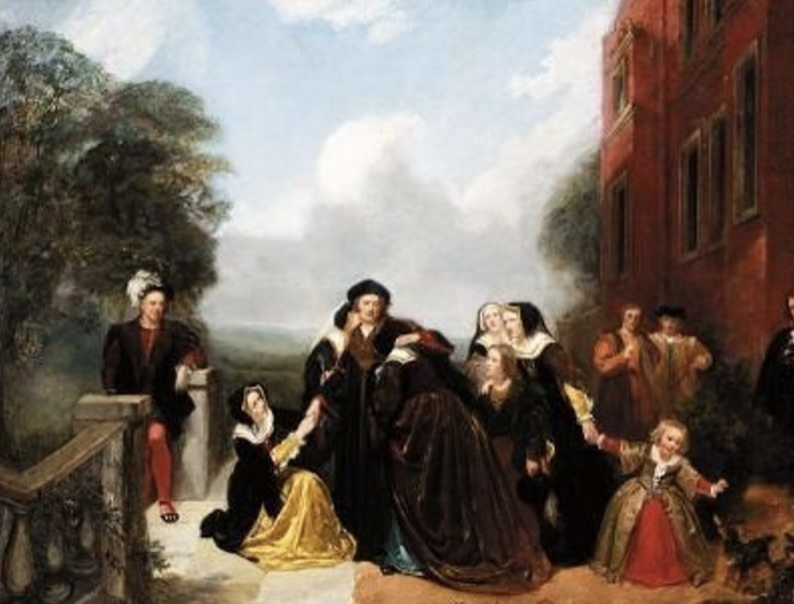 Family Life
In 1511 More's spouse Jane Colt died-and More soon married a widow, Alice Middleton, who was a good housekeeper, and a good mother to his children. The couple cared for two adopted children, Anne Cresacre and Margaret Giggs, as well as Alice's daughter, also called Alice – and More's children Margaret, Elizabeth, Cicely and John. More insisted on the same excellent classical education for his daughters as for his son John. As the children married the More household grew. More's widowed father, John More, was part of the household.
Scholarship
More was an accomplished scholar. As well as his native English, More read and wrote in both Greek and Latin. More lectured on St Augustine's The City of God. More wrote the classic Utopia which derives from Plato's Republic, and which has given rise to a genre of writing of which Swift's Gulliver's Travels, Aldous Huxley's Brave New World, and George Orwell's Nineteen Eighty Four, are but three examples.
More was outstandingly successful professionally, in his family life, and as a scholar. Personally, More was abstemious in food and drink, indifferent as regards his personal appearance, pleasant in his dealings with others, hospitable, a person with many friends. More was humorous, and loved a joke. More was a friend to humanist scholars of the northern Renaissance such as Erasmus – and persuaded Erasmus to write In Praise of Folly which lampooned the corruption of so many in authority within the Church.
Beyond this, there was an aspect of More not evident to many of his contemporaries. As More remarked to his daughter Margaret, we cannot go to heaven in featherbeds. More distrusted his own perseverance.  As More approached his clearly foreseen death, following his resignation as Lord Chancellor in 1532, More's attention was on Jesus of Nazareth, and the events leading to Jesus' crucifixion. It is in Jesus of Nazareth that we find the key to understanding Sir Thomas More.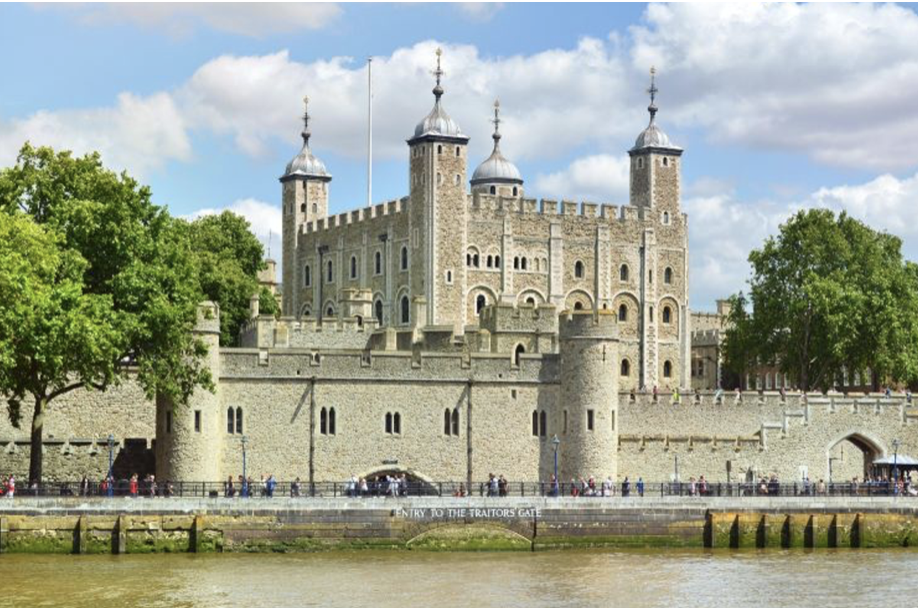 Death
More's last moments are recounted by his son-in-law, Thomas Roper, surely no overly sentimental witness:

And so was he brought by Master Lieutenant out of the Tower, and from thence led towards the place of execution, where going up the scaffold, which was so weak that it was ready to fall, he said merrily to Master Lieutenant: "I pray you, Master Lieutenant, see me safe up, and for my coming down, let me shift for myself."
Then he desired he all the people thereabouts to pray for him, and to bear witness with him, that he should then suffer death in and for the faith of the Holy Catholic Church. Which done, he kneeled down, and after his prayers said, he turned to the executioner, and with a cheerful countenance spake unto him: "Pluck up thy spirits, man, and be not afraid to do thine office, my neck is very short. Take heed therefore thou strike not awry, for saving thine honesty."

Charles V, the Holy Roman emperor, was the most significant political figure in Europe in the first half of the 16th century, Holy Roman Emperor and Archduke of Austria 1519-56, King of Spain 1516-56, Lord of the Netherlands 1506-55.  On hearing of More's death, Charles V summoned the English ambassador, Sir Thomas Elyot, and said:

…if we had been master of such a servant, of whose doings ourselves have had these many years no small experience, we would rather have lost the best city of our dominion than to have lost such a worthy counsellor.  


Michael McAuley
Feast of St Thomas More and St John Fisher
22 June 2021