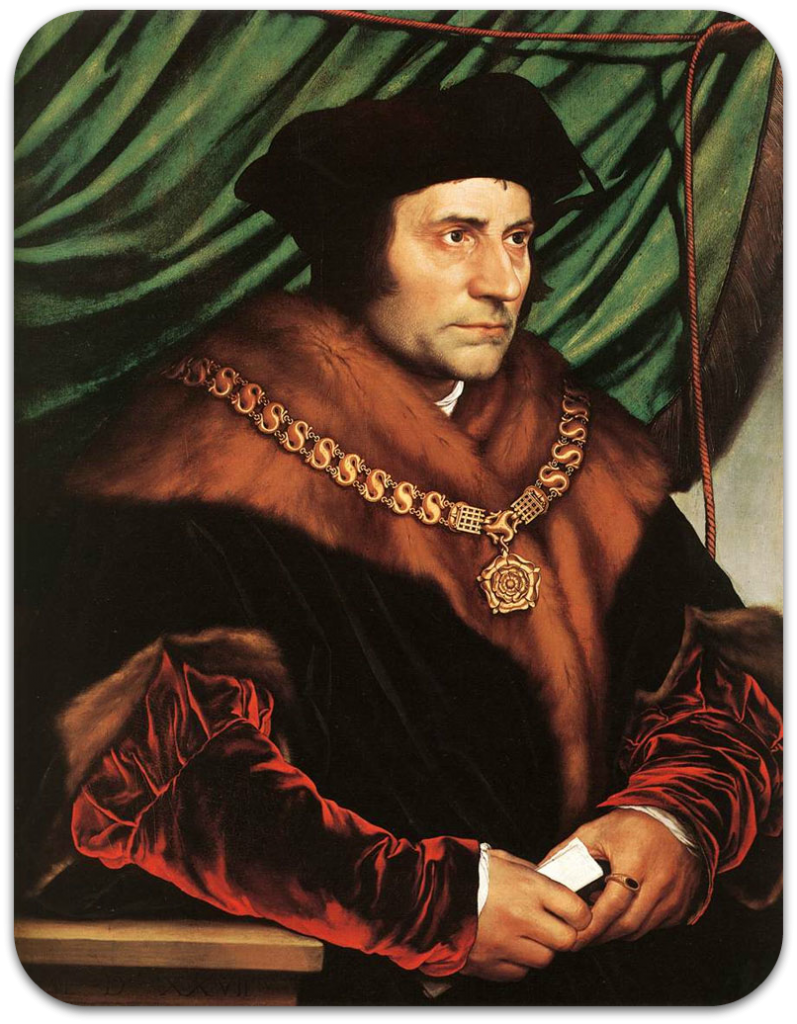 Monday, 22 June 2020, is the Feast of St Thomas More. Given the coronavirus we bring you on the link below  Mass celebrated by the Society's Chaplain, Fr Peter Joseph, with the assistance of the Friars of St Francis, Dundas Valley.  Not insignificantly, St Thomas More is thought to have been a member of the Third Order of St Francis.  The choir is the Capella Sublima directed by Richard Perrignon, Master of Sacred Music St John's College, within the University of Sydney.
We thank the many who have contributed to this celebration of the feast day of St Thomas More- including Fr Peter Joseph, Fr Chris Sharah FSF, Inma Cumbreras Conde, Isabel Kamlad, Wahib Maroun, Stephen McAuley, and Richard Perrignon.
The link for the Mass of the Feast Day of St Thomas More is:
https://www.youtube.com/watch?v=_pKfs93iUMs
Life
The story of St Thomas More is well known but worth repeating. Saint Thomas More was born in 1478. He died in 1535 at the age of fifty-seven.
Early Years
More's father was a lawyer, and, later, a judge. More spent only two years at Oxford University before his father (who was a pragmatist) insisted More enrol at New Inn, where, for two years, More commenced his study of English law. From 1496 to 1502 More was a student at Lincoln's Inn. In 1502 More was called to the bar. Despite not having obtained a degree from Oxford, More became proficient in Greek and Latin. More was a proponent of the "new learning", emphasising a return to the Greek and Latin classics. More gave a series of lectures on St Augustine's City of God. More toyed with a religious vocation, spending 1503 and 1504 living near the Carthusian monastery in London, taking part in the life of the Carthusian monks. But the life of a Carthusian monk was not for More.
Marriage and Family In 1505
More married Jane Colt. They had three daughters and one son, Margaret, Elizabeth, Cicely, and John. Unfortunately, More's wife, Jane, died in 1511. More, in accordance with the custom of the time, wanting a mother for his children, promptly married a widow somewhat older than himself, Alice Middleton. Alice brought with her a daughter from her former marriage. More, at some stage, became the guardian of two orphans – Anne Cresacre and Margaret Giggs. So, there were eventually seven children in the More household. More insisted on giving his daughters the same excellent classical education he gave his son – unusual in that age.
Utopia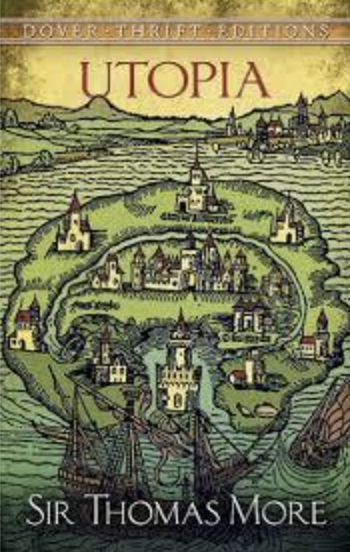 In 1516 More wrote the classic of world literature, Utopia.
Professional Life
More was a lawyer, a parliamentarian, an administrator, a judge, and a diplomat. This was a time when the concept of the separation of powers – legislative, executive, and judicial – was unknownMore moved effortlessly to positions of greater and greater responsibility. More became Speaker of the House of Commons – and, in 1525, Chancellor of the Duchy of Lancaster, having executive and judicial responsibility for much of northern England. From 1529 to 1532 More was Lord Chancellor.
Hidden Life of Prayer and Penance
At some stage, it would seem, More became a member of the Third Order of St Francis. Although a layman, More lived a hidden life of fervent prayer and penance.
Imprisonment, Trial and Death
More was imprisoned in the Tower of London from 13 April 1534 until his execution on 6 July 1535. More's trial for treason on 1 July 1535 was a kangaroo court. Only after his conviction for treason did More state his conscientious conviction that, as Catholic teaching had always held, the Pope is the Head of the Church on earth, the Vicar of Christ. More went to his death for his faith, at a time when the renaissance popes were far from the saintly examples provided by, say, the twentieth century popes – Pope Pius XII, Pope St John XXIII, Pope St Paul VI, and Pope St John Paul II.
To understand the hidden depths of St Thomas More, one needs to look at his Tower writings, written when More was imprisoned in the Tower of London. Only there can one understand the hidden More.
St Thomas More went to his death, Henry VIII's good servant, but God's first. More went to his death with good humour, born of an understanding that there is more to life than family, intellectual achievement, riches, and power, and that our ultimate goal is not in this life.
St Thomas More is the patron saint of statesmen and politicians, lawyers, and those who have difficult marriages.
Letter to Daughter Margaret
The liturgy provides for our reading an excerpt from a letter written in prison by More to his daughter, Margaret:
Although I know well, Margaret, that because of my past wickedness I deserve to be abandoned by God, I cannot but trust in his merciful goodness. His grace has strengthened me until now and made me content to lose goods, land, and life as well, rather than to swear against my conscience.
God's grace has given the king a gracious frame of mind toward me, so that as yet he has taken from me nothing but my liberty. In doing this His Majesty has done me such great good with respect to spiritual profit that I trust that among all the great benefits he has heaped so abundantly upon me I count my imprisonment the very greatest. I cannot, therefore, mistrust the grace of God.
By the merits of his bitter passion joined to mine and far surpassing in merit for me all that I can suffer myself, his bounteous goodness shall release me from the pains of purgatory and shall increase my reward in heaven besides.
I will not mistrust him, Meg, though I shall feel myself weakening and on the verge of being overcome with fear. I shall remember how Saint Peter at a blast of wind began to sink because of his lack of faith, and I shall do as he did: call upon Christ and pray to him for help. And then I trust he shall place his holy hand on me and in the stormy seas hold me up from drowning.
And finally, Margaret, I know this well: that without my fault he will not let me be lost. I shall, therefore, with good hope commit myself wholly to him. And if he permits me to perish for my faults, then I shall serve as praise for his justice. But in good faith, Meg, I trust that his tender pity shall keep my poor soul safe and make me commend his mercy.
And, therefore, my own good daughter, do not let your mind be troubled over anything that shall happen to me in this world. Nothing can come but what God wills. And I am very sure that whatever that be, however bad it may seem, it shall indeed be the best.
Modern historical research confirms the Church's judgment of More's heroic sanctity. Yet More was not without his faults, and was, in many ways, a man of his time. Sanctity involves struggle against oneself, against one's evil tendencies, against one's faults, despite one's flaws. That is a lesson More leaves for each of us.





Michael McAuley