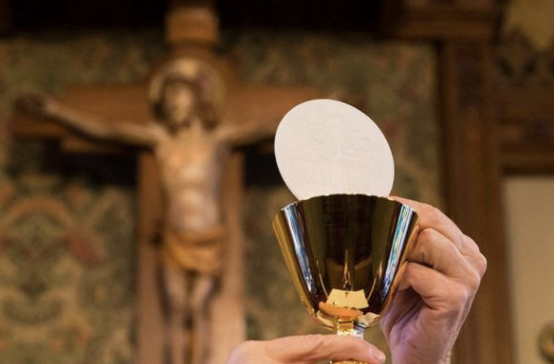 On Sunday we celebrate the Feast of Corpus Christi, the Body of Christ.  At the time of Coronavirus Pandemic, despite some easing of restrictions, most of us cannot get to Mass, cannot receive Our Lord in Holy Communion, cannot participate in the Sacrament of Reconciliation.
Online Mass
While we may participate in an online Mass, and make a spiritual communion, this is a second best. We are bodily creatures, and part of a community. There is more to Mass than turning on our TV or computer, and passively watching. Nevertheless, participating in an online Mass, one can sense the universality of the Church, seeing a priest one does not know, watching a Mass from a parish, or even country, far away.
When we participate in Mass we participate in the Sacrifice of Calvary, we participate in the Last Supper, and in Christ's Resurrection. Despite the pandemic, on a number of occasions I have had the opportunity to actually participate in Mass in person. To my mind, that is a great joy.
There seems to have been a reluctance by the NSW government to allow churches to re-open, giving rise to a petition sponsored by the Archdiocese of Sydney which, within 24 hours, led to a more reasonable response. This should not have been necessary. We do not seek special privileges, but only to be accorded the same treatment as other members of the community.
Visit to the Blessed Sacrament
While it may still be difficult to participate in Mass, other than on-line, in the coming weeks it is going to be easier to drop in to a church to make a Visit to the Our Lord in the Blessed Sacrament. He is there waiting for us, wanting us to open our hearts to him. Are we always too busy? too busy for He who most matters?
At this time when there is less opportunity for weekly offerings, perhaps we can make a special offering to our parish. The usual costs have still to be met-and there are additional expenses associated with online Masses.
St Thomas Aquinas
St Thomas Aquinas (1225-74) wrote beautifully of Corpus Christi.
St Thomas Aquinas is, arguably, the greatest thinker in the history of the Church, whose Summa Theologiae is still worth reading today. What is most attractive about Aquinas, to my mind, is his intellectual method. Dealing with some particular issue, Aquinas sets out as forcefully and persuasively as possible, the arguments against his position, he then lays out his position, finally responding one by one to each of the arguments against his position. The best of argument in the courts adopts a similar approach.
Aquinas' Treatise on Injustice contains a discussion on the role of judges, advocates, witnesses, and litigants, of perennial value.
Corpus Christi
This is what Aquinas had to say on the feast of Corpus Christi:
Since it was the will of God's only begotten-Son, that men should share in his Divinity, he assumed our nature in order that by becoming man, he might make men gods. Moreover, when he took our flesh, he dedicated the whole of its substance to our salvation. He offered his body to God the Father on the altar of the Cross as a sacrifice for our reconciliation. He shed his blood for our ransom and purification so that we might be redeemed from our wretched state of bondage and cleansed from all sin. But to ensure that the memory of so great a gift would abide with us forever, he left his body as food and his blood as drink for the faithful to consume in the form of bread and wine.
Oh precious and wonderful banquet, that brings us salvation and contains all sweetness. Could anything be of more intrinsic value? Under the Old Law it was the flesh of calves and goats that was offered, but here Christ himself, the true God, is set before us as our food. What could be more wonderful than this? No other sacrament has greater healing power; through it, sins are purged away, virtues are increased, and the soul is enriched with an abundance of every spiritual gift. It is offered in the Church for the living and the dead so that what was instituted for the salvation of all may be for the benefit of all. Yet, in the end, no one can fully express the sweetness of the sacrament, in which spiritual delight is tasted at its very source and in which we renew the memory of that surpassing love for us which Christ revealed in his passion.
It was to impress the vastness of this love more firmly upon the hearts of the faithful but our Lord instituted this sacrament at the Last Supper. As he was on the point of leaving the world to go to the Father, after celebrating the Passover with his disciples, he left it as a perpetual memorial of his passion. It was the fulfilment of ancient figures and the greatest of all his miracles, while for those who were to experience the sorrow of his departure, it was destined to be a unique and abiding consolation.
Patronal Feast Day
Monday 22 June is the Feast of St Thomas More. Each year the Society has a Mass at St Mary's Cathedral followed by a Dinner at which we usually have a guest speaker. This year, despite the easing somewhat of restrictions, we will not be doing so. Although legal restrictions are eased, government is encouraging us to maintain social distancing. The Council decided to defer the Mass and Patronal Feast Day Dinner to 2021.
Michael McAuley