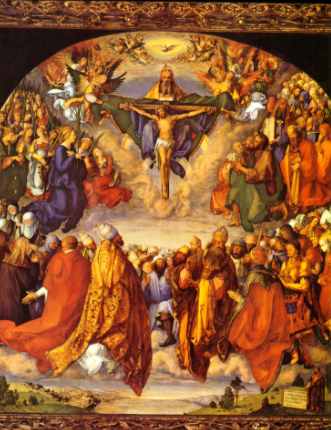 1 November is the feast of All Saints. The saints, in all their diversity, live the Gospel with profundity, with all its consequences, making the Gospel the measure of their personal decisions. Most saints are not known, not publicly identified by the Church, long forgotten. Most saints disappear in the apparent ordinariness of their lives.
Sanctity
Sanctity involves following the example of Christ, giving testimony to Christ by the heroic practice of the virtues, or by martyrdom.  In a sense, the only thing to regret in life is that one might have been a saint and is not.  Sanctity is possible at all times, in all places, in all circumstances.  The saints whom the Church has canonised remind us that living the Gospel is possible for each of us here and now.
Recent Popes
The Church is concerned to provide us with real examples of sanctity, capable of being emulated in everyday life.  During his pontificate Pope St John Paul II canonised 482 saints.  Pope Benedict XVI canonised 45 saints.  Pope Francis has canonised over 50 saints.  The number of saints beatified or canonised by recent popes has greatly increased.
Recently Canonised Saints
Amongst recently canonised saints are the following:
St Josephine Bakhita (1869-1947), originally a slave, later a convert, and a nun.
St Marcellin Champagnat (1789-1940), a priest and founder of the Marist Brothers.
The Martyr Saints of China, many of whom died in the Boxer Rebellion, at which time over 30,000 Chinese converts to Christianity were killed. The Martyr Saints of China include not only Chinese converts but missionaries.
Father Damien (1840-1889), a Belgian missionary priest who lived and died with the lepers of Molokai.
St Juan Diego (1474-1548), a native of Mexico to whom Our Lady appeared, leaving on his cloak an image of the Virgin, giving rise to the shrine at Guadalupe.
The Korean Martyrs, largely converts to Christianity, as well as some missionaries.
St Cristobal Magallanes (1869-1927), a Mexican priest killed without trial on the way to say Mass during the Cristero War on a trumped-up charge of inciting rebellion.
St Gianna Beretta Mola (1922-62), an Italian paediatrician, who refused an abortion and hysterectomy while pregnant with her fourth child, and sacrificed herself for her unborn child.
St John Henry Newman (1801-90), a convert, and theologian, who established the Oratory in England, and whose thought is significant for contemporary Catholic theology.
St Kateri Tekawitha (1656-1680), a Mohawk convert.
The saints are a practical reminder of the catholicity of the Church. There are all sorts of people who are saints.
St Marcellin Champagnat (1789-1940), a priest and founder of the Marist Brothers.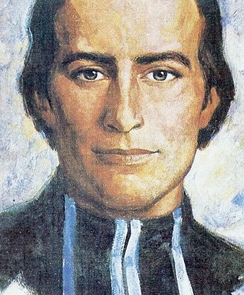 Causes Proposed
Amongst persons whose cause has recently been proposed are:
Elizabeth Anscombe (1919-2001), a British analytical philosopher.
King Baudouin of Belgium (1930-93), King of Belgium from 1951 to 1993.
John and Evelyn Billings (1918-2007 and 1918-2013), pioneers of the ovulation method of family planning.
Carlo Alberto dalla Chiesa (1920-82), an Italian general, murdered by the Mafia.
Jacques Maritain (1882-1973), a convert and philosopher, one of the drafters of the Universal Declaration of Human Rights.
Malcolm Muggeridge (1903-1990), a convert and journalist who helped bring Mother Teresa to popular attention.
Frank Sheed (1897-1981), an Australian publisher, writer and theologian. I have a vivid recollection of being in the pew behind Frank Sheed at Holy Name Priory, Wahroonga, during the 1970's when he was visiting Australia. I will never forget the reverence with which he made his thanksgiving after Communion.
Oskar Schindler (1908-1974), a German industrialist responsible for saving the lives of 1200 Jews.
Sargent Shriver(1915-2011), John F Kennedy's brother-in-law, the driving force behind the US Peace Corps, and architect of the 1960's War on Poverty.
Mind you, the process of canonisation is not easy, and may come to a halt, permanently or otherwise, for any of a multitude of reasons.
No Gold Watch
Canonisation is not like receiving a gold watch at the end of one's career, nor being voted a "good bloke", nor receiving the Order of Australia, nor a papal knighthood, nor receiving a commendation from the football club as being the best and fairest.
Dante
The great Italian poet Dante (the 700th anniversary of whose death we will celebrate next year) wrote the epic The Divine Comedy. The Divine Comedy is a reminder of the stakes involved in daily living, a reminder that we create ourselves by the choices we daily make, a reminder that we get what we choose, a reminder that there is always hope, a reminder that God wants us to repent, a reminder that God is a merciful and loving Father, always longing for our repentance, a reminder that the most improbable people make it, and a reminder that the most apparently probable people do not necessarily make it. We cannot be sure of ourselves. Hence the urgency of the prayer to Our Lady – pray for us now, and at the hour of our death.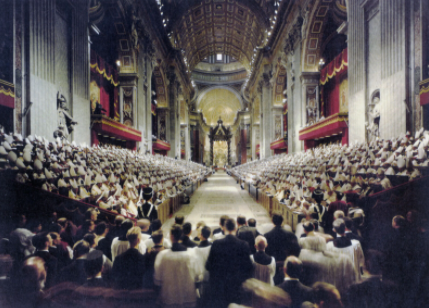 Second Vatican Council
The Second Vatican Council reminds us of the universal call to holiness.  We are to be as perfect as our heavenly Father is perfect.  Within the Church there are different vocations, but all are called to love of God and of neighbour. Our personal vocation to sanctity comes with the sacraments of Baptism and Confirmation. We cannot live sanctity unless we listen to the Word of God, participate in Mass and the sacraments, engage in personal prayer, practise the virtues-as well as self-giving. We must will, not only the goal, but the means.
We are each called to imitate Christ. Sanctity involves a struggle against ourselves. For all of us the risk is mediocrity, self-satisfaction, the comfortable life, being neither hot nor cold, making ourselves and our desires, our own way of thinking, our own way of being the only thing that matters. Narcissism and hubris are the enemies of sanctity.